As a service to Members, we have posted in the links below the names of all ICE members who have died since 1 January 2016 and whose details are known by the Membership section of ICE as at January 2023.
ICE deceased July 2021 to January 2023
ICE deceased June 2020 to July 2021
ICE deceased March 2020 to June 2020
ICE deceased March 2019 to March 2020 
ICE deceased from July 2017 to February 2019
ICE deceased March 2019 to March 2020
ICE deceased May 2016 to July 2017
ICE deceased since 1 January 2016
If anyone wishes us to post an appreciation of a deceased member please send details to the Civil Engineers' Club Secretary Peter Richardson   email: secretarycivilengineersclub@gmail.com 
Peter Sandwell
It is with regret that we report that Peter Sandwell died on 22 August 2021, aged 69. As well as being a distinguished Civil Engineer, Peter was an active member of the Walking Group. Please click on the link below for an appreciation of his life by some of his friends.
Timothy Tardrew
It is with regret that we have heard that Timothy Tardrew died on 6 March 2021, aged 76. As well as being a distinguished Civil Engineer, Tim was an active member of the Walking Group. Please click on the link below for an appreciation of his life by Richard and Christine Lucas.
Gwilym Roberts
It is with regret that we have heard that Gwilym Roberts died on 31 July 2020, aged 95. As well as being a distinguished Civil Engineer who was ICE President in 1986-87 he was a long-standing member of the Civil Engineers' Club and one of its oldest members.
If anyone who knew Gwilym would wish to write an appreciation of him please email me at peter.c.richardson@btinternet.com and I will add their comments below.
For Gwilym's obituary by the IESF (Ingenieurs et Scientifiques de France) please click on the link below:
IESF Gwilym Roberts Life and Times – Aug 2020
Robin Wilson: an appreciation by Peter Richardson
I was sad to hear that Robin Wilson CBE, a former ICE President (1991-92) and Chair of the Civil Engineers' Club, died on 11 November 2019. There was to be a memorial service for him at St Margaret's Church Westminster on Monday 30 March but it has been postponed indefinitely due to the Coronavirus epidemic.
I first met Robin when I was working for Travers Morgan in 1990. I had seen an advertisement asking for volunteers to organise a Contract Bridge competition for the Club, and rather foolishly volunteered to attend a meeting which he had called at the London office. Suffice it to say but there were only two people at the meeting- Robin and myself, so I became the Contract Bridge Secretary for the Brunel Trophy and a member of the Civil Engineers' Club and Committee to boot. The Brunel Trophy is an annual teams of four competition for Civil Engineers and their friends and it has been held every year since 1990. Through Travers Morgan Robin had also donated the fine cut glass bowl which is the trophy.
At the time Robin was Chair of the Club and took great pride in all the Club events. He presented the trophy at the inaugural event in 1990, which was won by a scratch team called Thomas Telford.
At the 2015 competition we invited Robin to the award ceremony to present the prize to the winners, to mark 25 years since he had instigated the event. Through Travers Morgan he had also donated the fine cut glass bowl which is the trophy.
I did not know Robin personally but always found him to be a most kind and funny person who saw the best in people. There are two photos of him below, taken 25 years apart. When I met him again in 2015 he hardly looked changed from when I first knew him.
At the inaugural Brunel Trophy competition in 1990:
Robin Wilson to Peter Richardson: "How many of your finesses failed today?"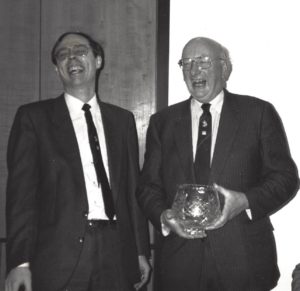 25 years later at the Brunel Trophy competition in 2015.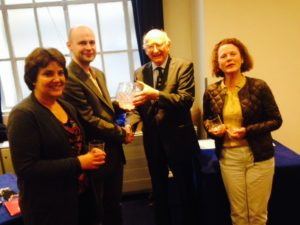 Peter Richardson
March 2020
David Meggitt writes:
I recall Robin well and even reminded him at the ICE some four years ago that he signed, along with Alfred Goldstein, my indentures in c 1969.
The experience was working under Bob Landau in Wellington House on bridge design for the Mӣ before shooting off elsewhere.
The rumour was that Robin, who was a keen firefly dinghy sailor spent Thursdays and Fridays of each week planning the week-end travels for racing open meetings and Mondays and Tuesdays recovering. Not sure whether he moved on to yacht racing.
Enormously capable and jolly, and a brilliant innings.
David Thomas, MICE writes:
I was sorry to hear of Robin's passing.He was ICE President during my year as Chairman of the former South Wales Association and visited South Wales for his Presidential visit and my Association's Annual Dinner.The visit did not get off to the best of starts as I went to Swansea Railway Station to meet him off the train only to find from his colleague that Robin had missed the train at Reading.This was about 10.30 and I was in a panic as the audience with the Lord Mayor of Swansea was arranged for 11am.I came out of the station ready to cancel the audience only to find Robin walking towards me. He had instructed his driver to put his foot down and drive him to Swansea. After that the two day visit went off superbly.
David Pocknall writes:
I have fond memories of Robin when I joined R Travers Morgan in 1960 at their Fleet Street office. I worked directly for him and Alfred Goldstein for 4 years on the route location study for the M23 and feeder roads. I recall the study covered the area from near Streatham to south of Crawley and investigated over 70 routes narrowing them down to 4 corridors. Robin was always full of enthusiasm, hard working, he was kind and a joy to work with.
He was always interested in my studies and allowed me to take a day off a week to gain my professional qualifications.
Around 40 years later I worked closely with Robin for several months while he chaired a Road Planning Conference for the A259 trunk road  around Winchelsea and Rye in East Sussex. As ever he was very focused on the task, he excelled in communication with the public and others and had a great sense of humour.
Jim Finlay writes:
I had the pleasure of getting to know Robin and his wife in his Presidential year when I was Chairman of the N I Region.
You may not recall that our Annual Dinner in December 1991 attended by Robin was hastily curtailed by an IRA bomb outside the Europa hotel and some 400 members and guests had to make a speedy exit.
Robin was determined to lend his and ICE's support for the 1991 Annual Dinner Reconvened on 26 May 1992.  Almost everyone returned to demonstrate the determination of the Civil Engineers and the construction industry generally to press on with life, despite the problems we had at the time. His support was greatly appreciated. What a lovely man he was – happy memories.
I kept in touch with him for a number of years before losing track in retirement.
Robin Wilson was a Trustee of the Coultershaw Trust, which is located in the South Downs National Park, with a waterwheel, historic waterpump, a state-of-the-art 21st century water turbine, and historic buildings around the mill pond. Please find an article about Robin by Tony Sneller, a fellow Trustee, in the link below:
Robin Wilson CBE Coultershaw Heritage Site and Beam Pump
Howard Barrett: an appreciation by Tony Barber, Martyn Taylor and Gordon Porter
Howard Barrett died peacefully at Coppice Lea Nursing Home on 25 April 2019. He was a Committee Member for many years which included being the Secretary of the Walking section and also the Sailing section for a time. There was a Memorial Service for Howard on 30 May 2019. The service was led by Rev Mark Pullinger
Several members of CEC attended Howard's funeral service at the Surrey and Sussex Crematorium on Thursday 30th May, which was led by Rev'd Mark Pullinger.
His cousin David Harkness and his wife Hilary, friends from the Croydon Ramblers and the Squash Club also attended. David gave a brief tribute to Howard and mentioned how his father had travelled from Dublin to Manchester to find work as a Civil Engineer after the end of WWI. Howard was born in Manchester and had been a pupil of Manchester Grammar School before going to Manchester University to study Civil Engineering.
Howard was a commitee member of Croydon Ramblers until 2010. He was a strong walker and instituted the 23 mile walk from Lewes to Eastbourne. This has become a popular annual event in the group's summer programme.
He was also the Golf organiser for London Region for many years, including running the Thomas Telford Trophy in 1993 at Betchworth Park.
Howard was Chair and later Treasurer of London Region of ICE.
Stuart Mustow: an appreciation by Peter Richardson, Civil Engineers' Club Secretary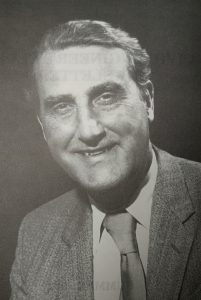 Stuart Mustow died on 2 June 2019 at the age of 90 after a short illness. He was a former Chair of the Civil Engineers' Club in the early 1990's and ICE President in 1993-1994.
I knew Stuart when he was the Club Chair. He was a most kind and helpful man whose strong Christian faith showed in his life. He was a Lay Preacher and together with his wife Sigrid ran the S&S Mustow Trust between 1970 and 2017.
Stuart is perhaps best known for his twelve year stint as County Surveyor of the (former) West Midlands County Council from 1974-1986, when it was then abolished.  As such he had a long association with Municipal Engineering.
He obtained a BSc from Aston University and spent most of his career in local government. With WMCC he oversaw the design and project management of the new main terminal on a new site which provided links to the West Coast Main Line and the NEC Exhibition Centre. The terminal was opened by the Queen in May 1984 .
Stuart was also known for his actions following the discovery of defective concrete in the bridge beams at St Chad's Circus and eight other locations on the Birmingham Inner Ring Road. In July 1978 he recommended that the responsibility for maintaining the road be taken from Birmingham City Council and given to WMCC. This was agreed by the Department of the Environment and seen as a loss of face for Birmingham Council.
After the abolition of WMCC Stuart retired from local authority work and became a Consultant at Atkins.
He became an ICE Vice President in 1990 and then President in 1993. This was a most worthwhile conclusion for his career.
He is survived by Sigrid, their three children Steve, Ruth and Paul, their partners and seven grandchildren.
John Witchell: an appreciation by Roger Hyde
John Witchell was Commodore of the Sailing Section from about 1990 to 2005 and an active member of the CE Club Committee for even longer,  sadly died on September 23rd 2018. He was 95.
I  first met John on a Civil Engineers cruise to Ouistreham in 1979 to remember the 35th Anniversary of the Normandy Landings. I became firm friends with him and his wife Tricia when we met again when sailing with the CE Club to the Channel Islands in 1983;  an occasion John Brownlie will also remember since he was  sailing with  a retired Admiral, the then Secretary of the ICE.  whose name evades me. Other names I  do recall  from that cruise include Archie Shaw in Elvera, John Croft, Don Wade in Shaker and Ken Scott in Samiotisa,
He  and Tricia sailed  their Westerley Konsort, Amity, well into his 80's.
He was a great  sailor, but more importantly an absolutely delightful man, and a very good friend.
Don Wade: an appreciation by Roger Hyde
Don Wade died on June 11th 2019 and the funeral was at St Marys Church Alverstoke, Gosport , on July 5th.  Don had not been well for a couple of years, and died peacefully at home after an active day.
Don and  his wife Ann were stalwarts of the Sailing Section.  We first met them on a Civil Engineers Club cruise to the Channel Islands in July 1982. They were sailing Shaker, a classic Kim Holman designed timber 34ft yacht, which was replaced  by Shaker Too (a Moody 42)  about 10 years later, which they sold only 3 years ago.
Since that first meeting Don and Ann had been good friends. Don was a delightful man, generous with his time and advice and a very good sailor and boatbuilder (he built their first timber yacht). A man of many parts.
Robert Freer: an appreciation by Peter Richardson, Civil Engineers' Club Secretary
I first met Robert when he joined the Civil Engineers' Club Committee over ten years ago. In the subsequent years he was a most loyal and supportive member of the committee and was always willing to help with anything. He also became the Club's Vice Chairman in 2011. As Vice Chairman he continued to work untiringly for the Club. One year he helped me particularly by attending the Brunel Contract Bridge Trophy day at ICE and he was there from the start at 10.00am to the finish at 5.00pm when he presented the prizes to the winning team. Not to be short-changed, he stayed to the evening meal.
He was also most helpful when through his Rowing links he enabled the Club's 30th anniversary in 2009 to be celebrated at the London Rowing Club in Putney.
In later years Robert was a regular attender at One Great George Street where he was to be seen on most days. Unfortunately he died suddenly in August 2014 from a heart attack. He was 82 years old.
There was a most moving funeral service for him last September at St George's Church, Hanover Square, London which many of his family and friends attended, including most of the Club's Committee members. On behalf of the Civil Engineers' Club I wish to say that we are most grateful for all the work which Robert did for us and for his devotion to Civil Engineering. We will be the poorer without him.
Robert's career is summarised below based on information which has been supplied to me most kindly by his surviving son Jeremy.
Robert Freer was a Civil Engineer who worked mainly on energy and maritime projects, and especially at the interface between research and practice. He was involved in the design and construction of nuclear, hydro-electric, diesel, and gas turbine power stations in this country and overseas (including Dounreay, Winfrith, Kariba and Aswan), and on the development of a prototype wind energy generator and a wave energy device.
Robert was born in Manchester on 3 February 1932. His family moved to London in 1934 where they settled in Ealing, and Robert went on to attend University College School from 1942 – 1945. After WWII the family moved again to Ringwould, Kent where Robert attended Dover Grammar School. In 1949 they moved to Melbourne in Australia, although Robert returned to the UK with his parents and one of his two brothers in 1953.
Robert began his interest in engineering whilst in Melbourne where he gained BSc Engineering from Melbourne University. This was followed by a Diploma in Hydroelectric Power from Imperial College, London when he returned to the UK. Robert's career began in Scotland at Sir William Halcrow & Partners where he was based in the hydro-electric department. His time was split between on-site construction at Invergarry, and time in the head office where he carried out design studies for hydroelectric schemes in Scotland and overseas. Robert received the Miller Prize from the Institution of Civil Engineers for his technical paper on Scottish hydro power whilst working here.
Robert went on to work at another Scottish company, the UK Atomic Energy Authority, before moving back to London in the 1960s. His first job there was at Sir Alexander Gibb & Partners, where he carried out studies for hydroelectric power stations in Iran and East Africa. He also designed a 24 MW diesel power station for a Ballistic Missile Early Warning System (BMEWS) radar installation in Yorkshire. From there, Robert joined Mouchel & Partners as resident engineer in 1963, and in 1966 he moved again to the British Aluminium Company, London, where he was responsible for technical advice on the operation of the hydroelectric power stations for the aluminium smelter works at Fort William and Kinlochleven.  Robert also prepared detailed proposals for the redevelopment of a run of river hydroelectric power stations on River Otra in Norway, and for the operation of a diesel power station at the Bauxite mine in Ghana.
In the 1970s, Robert relocated to Glasgow where he worked at Babtie Shaw & Morton. Robert took on the role of Team Leader for an innovative design study for an array of offshore wind turbines connected to the National Grid. A paper on this work was presented to the DTI and to the International Wind Energy conference in Copenhagen in 1980. Robert was then seconded to Edinburgh University under an Energy Technology Support Unit (ETSU) contract to work on the engineering development of the wave energy device using Salter's duck, until the programme was closed.
In 1982, Robert returned to London to work at the Sand and Gravel Association as a technical adviser to its members. This was followed, from 1987–1991, by a period at the Construction Industry Research and Information Association (CIRIA), where Robert managed a series of research projects. This included a project on energy research, and a publication on the maintenance and inspection of concrete dams.
In 1992, Robert joined the Institution of Civil Engineers as Technical Adviser.  He was a member of the ICE Energy Board, and secretary of the Reservoirs Committee, responsible for the examination of hydro-electric engineers seeking appointment as dam inspectors. Robert was also an ICE representative on the Engineering Council's Vision 2020 report on energy 1997–1999, to which he contributed sections on hydro power, and an ICE representative on the Parliamentary Group for Energy Studies.  In this capacity, he was responsible for promoting and setting up the Joint Energy Forum to bring together the energy interests of the Institutions of Civil, Mechanical, Electrical and Chemical Engineers and the Institute of Energy with the objective of exercising greater political weight in discussions with government and the civil service. Robert was also responsible for making responses on behalf of the ICE energy board to government consultation and discussion documents, including consultations on embedded generation, stability of the Grid system, the Performance and Innovation Unit (PIU) energy review, and a report to the House of Commons Select Committee on Wave Energy.
Robert attended energy conferences in China, Lithuania, Norway, Croatia, Portugal, Spain, Finland, Sweden, Austria, and Switzerland, and presented papers at many of these conferences on hydroelectric power and the connection of renewable energy to grid systems. Robert's publications include The Three Gorges Project on the Yangtze River in China and papers on the electrical energy supply in Lithuania after Communism, and on the use of renewables in global climate change. He was awarded the George Stephenson medal from the Institution of Civil Engineers in 2002 for The Three Gorges Project paper.
From 1995, Robert joined Reed Publishing and Wilmington Press as part-time editorial adviser on energy matters. From 2000 until his death, Robert sat on committees, boards, and panels at the Institution of Civil Engineers. He also became a member of the Worshipful Company of Engineers in 2008.
Robert died from a sudden heart attack on 11 August 2014. He had been discharged from hospital a few days earlier following a minor fall at home, and was recuperating from this when he died.